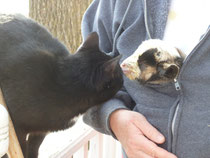 I must say that overall we love living on a farm. There is so much to see and learn about the wonders of life and unfortunatly death. Kidding time is both fun and emotionally exhausting.  Especially when you have a mother goat deliver prematurely.  Susie and our daughter, Bobbie, went out to the barn this afternoon to check out some things in the milk room.  Since the milk room door is still covered with snow build up, they had to go through the barn to get to it.  As they entered the barn, they heard just the tiniest little bleet from the goat pen.  At that point choas ensued.  One of our does, Patches, had delivered twins early.  We figure at least 2 weeks early.  Something happened in the barn at some point to cause her to deliver before she was ready.  She couldn't stand due to an injury to her front leg so although she is a very experienced and wonderful mother, she had not been able to care for her babies.  One had already died and the other was barely holding onto life.  If you have ever seen the new show on TLC called "Shear Madness," you can understand what happened next.  Susie started yelling for Bobbie to run and get towels and me (Don).  She took charge of the little buckling and was trying to get him stimulated and alert.  He was very close to death.  I came running and we had to seperate the buck from the herd ( which we should have done last week) and try to get Patches to stand so we could try to get some Colostrum from her.  The little guy had no chance of survival without that first mother's milk.  So far he is still alive although he has not been able to stand yet.  His mom is too injured to take him back, so if he survives, he will be part of our family.  Our first Bottle Baby of the season.  Susie was warming him by carrying him inside her jacket.  Her breathing and heartbeat simulates his mother as well.  Our farm cat, Blaze, seemed to know he needed a little loving and spent some time cleaning his face for him.  You wonder what could you have done  to prevent something like this happening and the answer is almost always nothing. It is part of the cycle of life on the farm.
This year has been filled with both the joys of new life and the sadness over the loss of an old friend.  In the fall we had to put down our son's black Lab  Alli Baba and the 40 Fleas.  She was 17 years old which is ancient for a Lab and over the years gave us many laughs and also caused a few heartaches (she was and is the record holder for chickens killed).  The price that we pay for the joy that we experience with our pets, is the sadness we eventually feel when we lose them.  I do believe that the joys far out weigh the tears in the end and we look back with fondness and happy memories remembering the wonderful animals that the Lord has blessed us with.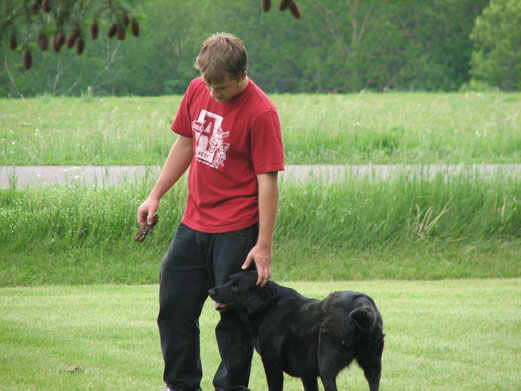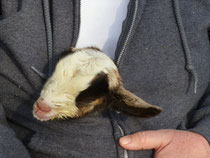 There are many lessons we can learn from life on the farm none the least is that life goes on.  We do what we can for our animals to keep them fed and healthy but some things are beyond our hands.  I tend to have a more cavalier attitude about it feeling that life goes on (at least when it comes to the livestock), while Susie gets broken hearted each time we have to deal with death.  As I listen to a baby goat bleeting in the living room I am so thankful for my wife and her tender heart for the helpless.  Each year we hope that we will not have bottle babies but our little Gomer's (I named him) mother would not take him back after such a hard and early delivery.  Bottle babies make wonderful pets and 4H or FFA projects but the reality of it is that they are a pain in the neck to care for.  They really tie us down since they depend on us to supply their meals for them.  They also tend to think that they are human and thus have a more difficult time integrating into the herd. We usually try to find a home for them with people that are looking for a pasture buddy for their horse or for kids that want a goat for a pet or a Fair project.  
On another subject.....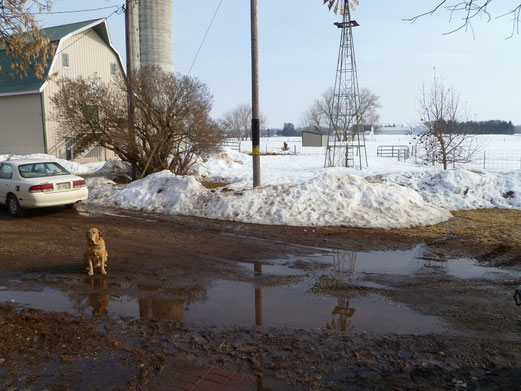 50 Degrees today.  Finally, we can see the light at the end of the tunnel.  The tunnel being the winter season that we are just coming out of.  It is funny how perspective changes everything.  Our friends and family in California cannot understand how excited we are about reaching 50 degrees.  For them, that would be a somewhat cold day and at one time in our lives before moving to Wisconsin we would have agreed with that.  For us now, we see Spring knocking on the door.  A day for running around in a sweatshirt instead of bundling up in winter coat, hat and gloves.   We burned 17 face cord of wood and are still looking for more wood to burn.  I have  to say that although I love all of the seasons I am thankful that this winter is almost over.  The one thing that is never fun is the mud.  The dogs will be muddy for the next couple of weeks until the frost is totally out of the ground.  By then we should be able to put them back in their outside home and be able to reclaim our Laundry Room. (Their winter home).  Any day now the Robins should return and before we know it our Barn Swallows will be back in their nests hatching babies.  The Cycle of Life and death on the Farm continues.  God is so good!  His blessings of life are unfailing for those of us who believe.  We are so thankful for the gift of eternal life that we have in Him.