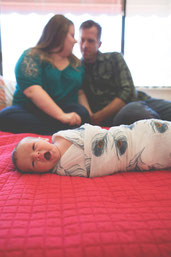 There has been much to be thankful on the farm since our last post (I am sorry that I have not kept you up to date). First of all we went to California in the spring to meet our new Grandson Quinten.  Our son Donny and daughter-in-law Melissa adopted him in April and he is a precious addition to our family.  We love him and them very much. While we were there we were also able to spend time with our son Corey who is in the process of starting a new Hip-Hop dance ministry to inner city kids.  He will prayerfully be relocating to Los Angeles and hopefully be opening his new studio next year (If you want more information let us know and we will tell you how to get in touch with him and/or his website).  We were also able to participate in  the Three Speckled Hens show in Paso Robles, California while we were there and saw many wonderful old friends.  We are planning to make their spring show a yearly event, so keep your eyes on the website for details as the date gets closer.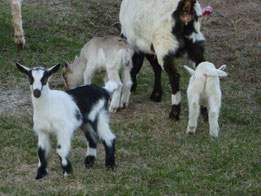 Last spring finally came bringing with it the wonderful sound of baby goats and their mamas excited to get out into their new pasture.  There is nothing like the joy and excitement of baby goats. They are so full of life and wonderment at what the world holds.  We found homes for all of our babies at the end of the summer except the two that we decided to keep and add to the herd. This was the first year that we (meaning Susie) did not have to milk by hand.  We got a bucket milker that works with an old Delaval vacuum pump.  Susie's hands were very Thankful to have entered into the 21st century.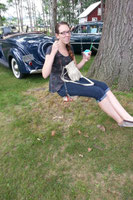 Life on the farm this year has been filled with adventures that we are both thankful for and learned from. Summer started with the visit of two of my Cousin's children Vitali and Lindsey.  They came to learn about what it was like to live on a farm and were very helpful around the farm and at the shows.  They also learned why you do not stand up in a canoe, sending one of my fishing poles to the bottom of the lake. We also had the chance to make many new friends at the shows and were blessed  to be able to let the love of our Lord reach out to many people. 
We were again able to go to California in August for the wedding of my niece Kendra and her new husband, Jason. It was a wonderful chance to see many family and old friends that we have not seen in many years.  We are truly blessed to have such wonderful relatives (way to many to mention in this blog), but it was such a blessing to see them again. Our son Brandon, his wife Melissa,our granddaughter Promise, and our grandson to be named when he is born on December 1st are home in California and we are looking forward to seeing them at Christmas time.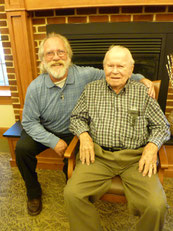 This fall we were thankful that the lord enabled us to go to the east coast and spend a little over a week in the Poconos in Pennsylvania.  The reason for the trip was to see family that we have not seen for many years. We got to spend time with my Great Uncle Reuben who turns 100 years old this month .  He is a great man of God who influence my life tremendously.  He and Judy were wonderful hosts and it was truly a blessing to see them.  We also got to see my Aunt Doris,  Uncle Wes and my cousin Sonja in the Bronx. It was wonderful to visit with them and catch up with what the Lord has been doing in their lives.  Next we went to Maine and saw my cousin John Stiver and his wife Kim. We had a wonderful time catching up and enjoying their New England hospitality.  They went above and beyond by taking us to the LL Bean flagship store late one night (it's open 24 hours) just so we could browse around.  We are so thankful for this wonderful trip. We enjoyed fresh lobster in Maine and true Philly Cheese Steak in Philadelphia.  We also got our soap in a cute little home decorating shop in the Poconos. All told we have been in 29 states this year so we have put a lot of miles on our vehicles.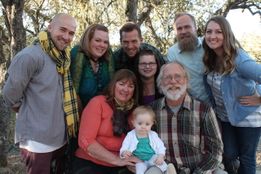 This is the time of year when we pause for a moment in the midst of our busy schedules to reflect on what we are most thankful for.  For our family, the one thing that we are most Thankful for is the salvation that we have through Our Lord Jesus Christ.  We are also thankful for the blessing of family and friends.  We are thankful for the ability to work from our farm and provide products that hopefully bless others.  We pray that each of you will enjoy a wonderful Thanksgiving!  Enjoy lots of turkey and make sure to pause for a moment to take stock of the wonderful ways that we have been blessed each and every day.
HAPPY THANKSGIVING!!!